A knitting cabaret? As knitters, how could we possibly resist!? Last weekend some of our craft group trotted off to see Stitch in Time – a knitting cabaret, in which Canadian performer Melanie Gall explores all things knit (and crochet).
Excitement! Drama! Romance! And… knitting? A scintillating cabaret, featuring the lost knitting songs of WWI and WWII from Canada, Britain, America and France. Bring your knitting (or crochet) and stitch along to these funny, poignant, toe-tapping, needle-clicking tunes. Come out and have a ball! Stitch in Time presents over a dozen historic songs, including More Power to Your Knitting, Nell!, The Knitting Itch and Knocking at the Knitting Club.
It was a hoot! From her sensible heels, to her spangled dress and adorable knitting hat (!), Melanie rocked the room with rollicking tunes and entertaining tales on the history of knitting. Most of us had brought along a knitting (or crochet) project and, between bouts of laughter, the needles flashed in and out of yarns of glorious colours and projects as varied as could be imagined.
My own knitting (and crochet) journey has been a rather bumpy one at times. From my first attempts in primary school – an epic fail that left me quite convinced that knitting was something other people did – to the community craft group I now help to facilitate, it's been quite a ride.
My mum had knitted for us on and off our whole lives and, by the time I was making my first foray into the terrifying land of knit, she had acquired a knitting machine. This speeded up her production significantly and reinforced my notion that hand knitting was a waste of time. At about that time, my ever-busy mum taught herself to crochet. Unbeknownst to me, she bought yarn in four shades of green – from pale moss, though to the deep forest green of pine needles – and set about about making me the most amazing poncho.
This was in an era when ponchos were all the rage and many a mum, gran or aunt was conscripted into making one (or more). As often as not, the homemade creations were made from granny squares pieced together – very trendy! But not my mine. I've no idea whether Mum had a pattern or just made it up as she went along, but she crocheted the poncho in the round in alternating rows of trebles, popcorn stitch and clusters of trebles. The neckband was double crochet in the palest of the greens, with the tassels to match. It was perfect! The right length, perfect tassels and fabulous colours that showed how well Mum knew me. It also convinced me that crochet was yet another dark art that was beyond my abilities to conquer!
When I got to high school the following year, I found (to my horror) that students were expected to 'volunteer' to knit and/or crochet! At various times we were tasked with creating squares that would later be assembled into blankets and donated to a retirement home, and outfits for little cupie-dolls. The dolls were also for a good cause and many beautiful outfits were created – just not by me!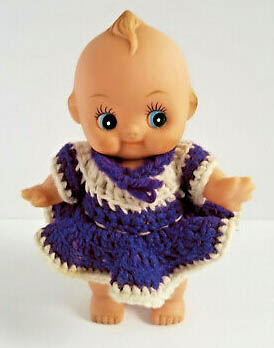 My output was slow and the quality highly variable. I did eventually conquer knitting a simple 6″ corner-to-corner square, but remained convinced that handcrafts weren't  the best use of my time – or limited skills! What I didn't realise it at the time was that these community service projects were aimed at teaching us the value of volunteering and to develop a sense of social responsibility. In my case what it really seemed to be doing was reinforcing the notion that knitting and crochet weren't my thing!
A good many years passed before I decided to give knitting another try. Unlike me, my BFF has been a pro-knitter from an early age and I've always been unfailingly impressed by her fabulous creations. From time to time she'd offer to show me how, but I always protested that I was a hopeless case… until Dearest Daughter was on her way.
Then BFF (and DD's godmother-to-be) suggested that I might like to try knitting something for the baby. She said that if I aimed at making just one small thing I might find it wasn't so bad. I was dubious, but she convinced me that it was achievable. So yarn and needles were purchased and, although the project took ages and there was a fair bit of unpicking involved, by the time DD was born I had created a rather cute sky blue angel top for her. She did grow into it eventually… and it was passed down to BoyChilde in due course, so it was well worth the effort.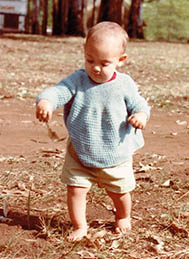 It was also the foundation on which all the rest of my knitting adventures were based. With ongoing encouragement from BFF I learned to be more forgiving of my knitting mistakes and to not take it all so seriously. Gradually – and without me realising it – knitting turned into more than a practical skill, it was fun! More than that, I felt ridiculously proud of my creations and of the that I'd become somewhat competent at something I'd always thought out of reach.
As the kids grew, so did the size and variety of jumpers. I experimented with Fair Isle and cables and intarsia – using multiple colours to add pictures to the jumpers. Hats, gloves, tea cosies, socks, toys, scarves and wraps all emerged from my needles at various times over the past 40 years – and I've enjoyed every knitting moment of the process.. even the undoing and re-knitting parts!
Crochet hit my radar only relatively recently, when arthritis started to impact my knitting enjoyment. The first step was to relearn how to make granny squares, with occasional guidance YouTube and from BFF – still my creative guru. As part of the learning process I went on to teach others how to crochet squares, dishcloths, Xmas ornaments and more.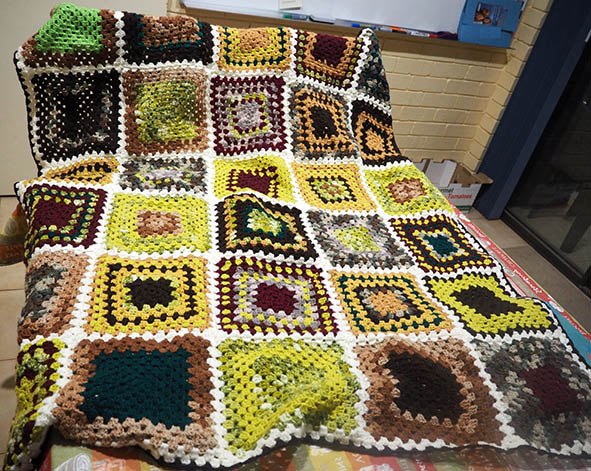 In keeping with our early introduction to knitting as a community project, BBF and I started a regular community craft group a number of years ago; the group still meet up each month to chat and knit or crochet – sometimes on our own projects and sometimes making items for charity. And occasionally we go to things like the knitting cabaret, just for fun – but always armed with some sort of small project to work on!
This knitting (and crochet) cabaret of mine is far from over – although it still surprises me that I enjoy it so much (thanks, BFF!). My 12-year-old self wouldn't recognize this version of me, but I think she'd be amused by the Loani Prior tea cosy I made this week – particularly the polo neck 🙂