It's wildflower season in WA, a time when the usually grey-green landscape north of Perth puts on it's holiday colours for an all-too-short time. This was as good an excuse as any for us to head off on a country jaunt. It also gave us the opportunity to use up our non-refundable  van hire 'credit' from November 2021 (the defunct Ghan-Nullabor adventure).  
I anticipated bush walks, photo opportunities and other wildflower-related shenaningans. And, whilst it was all that and more, the wildflowers also provided a glorious backdrop to an additional mission goal: hunting down the best vanilla slice north of Perth!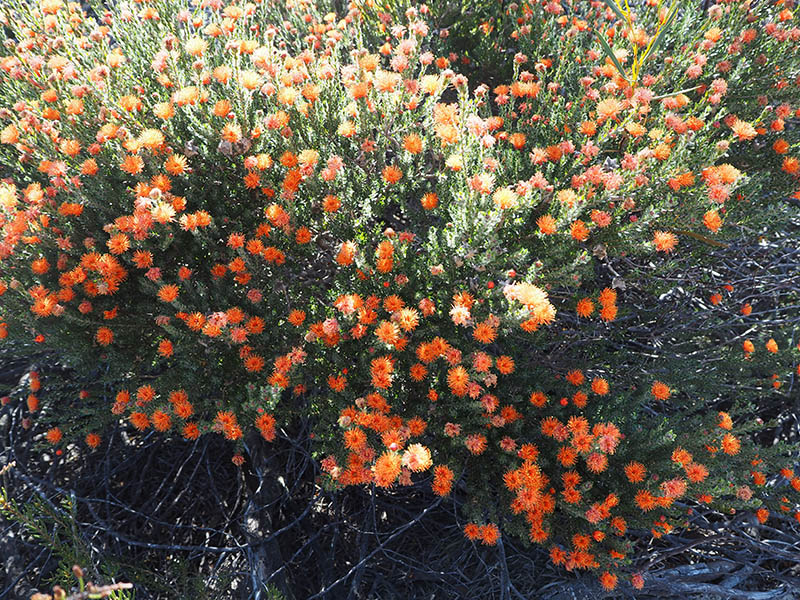 The last time we were further north than Lancelin was en route home from our Darwin to Perth road trip, via the Gibb River Road (Oct 2019). On that trip we encountered a random couple also on their travels who, on discovering a mutual interest in vanilla slices, were effusive in their praise of the vanilla-flavoured delights of Northampton. "Make sure you go to the bakery," they exclaimed. "You'll love their vanilla slice. It's the best in WA!" Sadly, the day we went through Northampton, the Shearer's Shed Cafe (aka local bakery) was short staffed and the pastry cabinet was bare.
So Northampton was a definite 'must do' stop along the way on this trip. We got there on day three (of 14), with Himself by now as keen as mustard to finally enjoy his long-awaited and much-anticipated tasting of what we'd been referring to as 'World's Best Vanilla Slice' ever since 2019.
For those not familiar with a classic vanilla slice, here are the basics, as described by my resident  connoisseur: the slice should have a smooth, slightly rubbery set-custard filling, sandwiched between two layers of crisp puff pastry; this should be topped with a generous layer of (preferably white) vanilla icing glaze. To be clear, this means: no cream, no coconut or powdering of icing sugar on the top, no lattice (or other) biscuits as pastry replacement. If any of these options come into play, then it is, quite simply, NOT a vanilla slice – it's just another pastry in the pastry cabinet.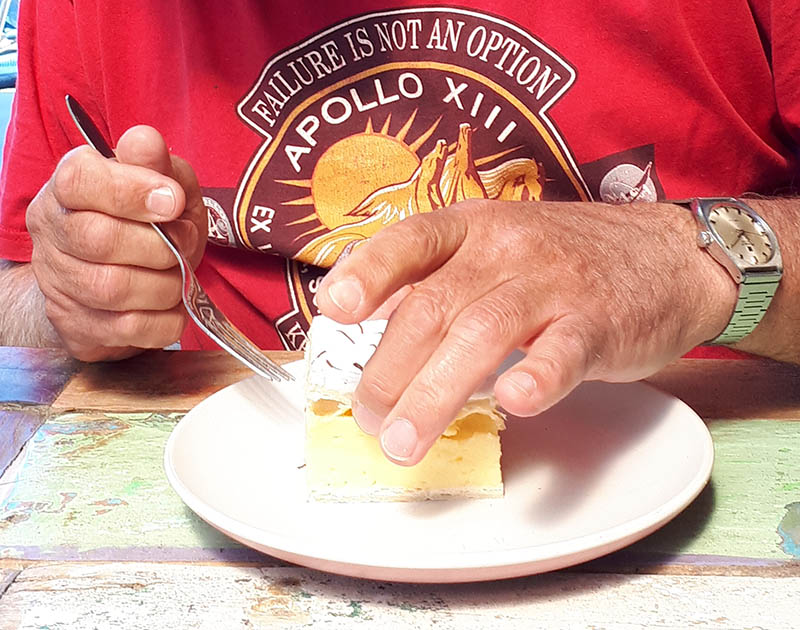 So, back to Northampton and Himself's tasting of 'World's best Vanilla Slice'…
From the moment we entered the cafe I could see the slice would not pass muster. It looked delicious in the pastry cabinet, but the 'custard' was clearly not ye olde bog standard yellow rubbery goop. It it was a fluffy, soft looking filling (pastry cream) that was definitely not going to get the tick of approval. And lo, this did indeed prove to be the case. The verdict was that, whilst very tasty, this just wasn't 'the real thing'. It was more the French style mille-feuille and Himself rated it about a 6/10 on the vanilla slice scale.
After waiting for almost three years for this tasty treat, disappointment levels were high. At least until we looked at the bigger picture, namely that most medium/small towns have at least one bakery. This meant that we (he) could do some active research along the way, comparing vanilla slices from each bakery we'd come to on the rest of the trip! The hunt was on!
Whilst not every place we visited actually had a bakery, those that did all seemed to have a clear understanding that a vanilla slice is a key component of any baked goods line-up in Australia. In the remaining 11 days of travel, several more slices were put to the test; overall Himself averaged a slice every other day and enjoyed every mouthful.
The tastings :
#1 Northampton – The Shearing Shed Cafe: Custard not really custard; it was 'tasty creamy goop' – nice, but not authentic. Icing on top a bit thin and runny. 6/10.
#2 Denham Bakery: Custard authentic, but could have been a bit 'chumpier' (a technical term in the world of vanilla slice tastings, it seems). The icing (pink!) had coconut sprinkled on it (a definite no-no), which detracted from the overall score. 7.5/10.
#3 Coral Bay Resort Bakery. Custard a bit low on flavour; pink icing, but a reasonable 7.5 – 8/10. 
#4 (and #5) Kalbarri Hot Bread Shop: Icing was good (although pink) and custard just the right level of rubbery-solid (apparently!). This one was good enough for a return visit the next day, much to the amusement of the staff. 9/10!
#6 Jurien Bay Bakery: Authentic, but not very nice; possibly stale. Also, the staff was pretty grumpy. 7/10 max.
#7 Lancelin Offshore Cafe: Tasty, but not quite as good as Kalbarri Bakery. Lovely cafe though – and super friendly staff. Worth a second visit to try other goodies if we were there for a bit longer. 8 – 8.5.
So, for our in-house vanilla slice connoisseur, the winner was definitely the Kalbarri Hot Bread Shop. The only reason they didn't get 10/10 is that Himself never gives a top score; that way, he says, there's always room for improvement!
On the last leg home, after the final tasting, we developed the following tasting notes. They would have been helpful to have earlier, no doubt, but can (and will) be used in all future tastings. After all, we're heading down south in a few months, and we'll make sure we've compiled a list bakeries to visit by then!
Vanilla Slice – tasting notes
Filling: must be custard (not pastry cream).
Custard: consistency – rubbery & high density; must bulge when poked – but not be penetrated – and spring back on release quantity – not so much that the slice is too tall to bite; colour should be a nice deep yellow.
Pastry:  crisp puff pastry, not gluggy must have good adhesion to the custard, i.e. the top must peel off in one piece, leaving either a thin layer of pastry on the top of the slice or a thin smear of custard on the underside of the pastry top not biscuit!
Icing: vanilla icing glaze, preferably white stiff, not too thick or thin no coconut or powdered icing on top.
Flavour: vanilla, but not too strong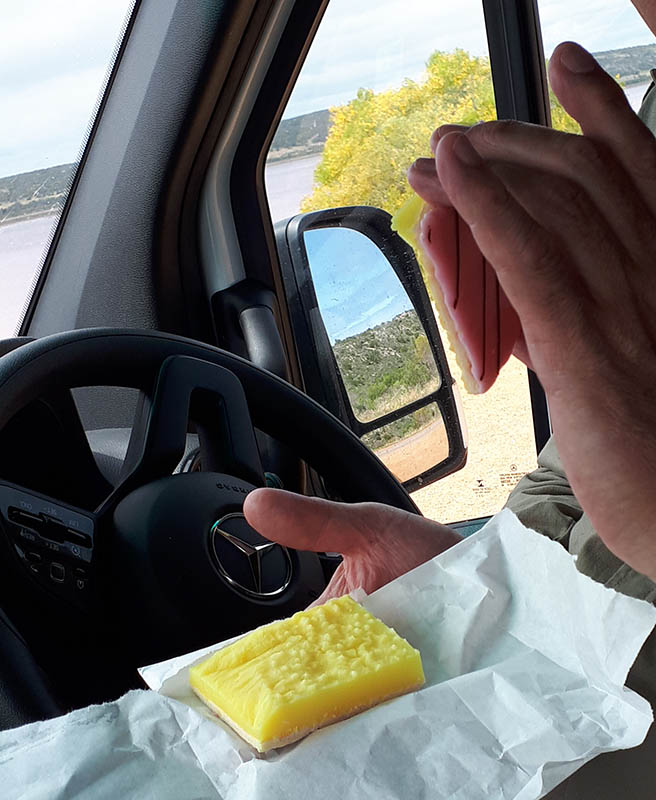 Note 1: Just to be clear, these were not tasted by me – well, not more than a nibble to try the filling, anyway. I'm far more the 'choose your pastry in the moment' kinda person, although the Kalbarri Hot Bread Shop also do a deliciously indulgent jam doughnut (just saying).
Note 2: We did do heaps of other things, such as snorkel with green sea turtles in coral bay, go quad-biking, wave at whales from a sunset cruise boat, beach walks, adventured in Kalbarri – skywalk and suchlike, slurped best-ever mango smoothy (#bumbaks-in-canarvon), visited the space museum and replaced a much-loved 2019 coffee mug, hunted wildflowers, consumed yummy lunch (!) at Dongara pub (unplanned, but excellent) and heaps more.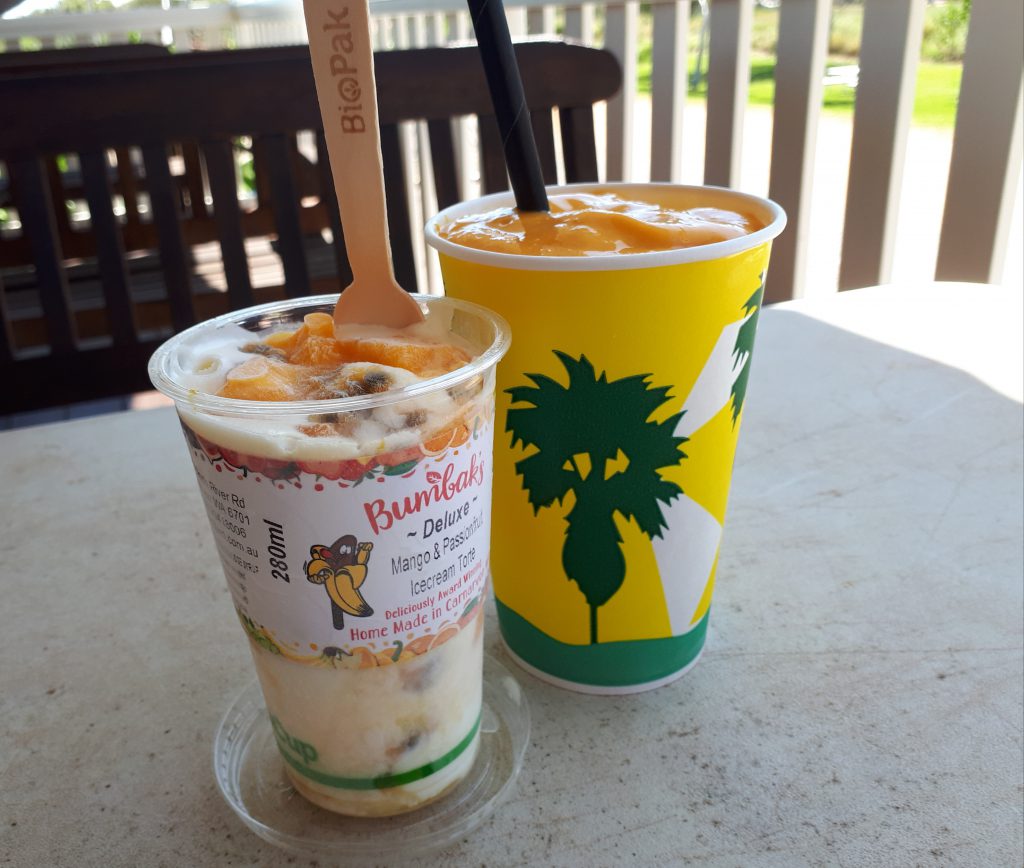 Note 3: An Apollo Eurotourer is not necessarily the best choice for adventures of this sort. The van was comfy enough, but very cramped inside. But now we know – the grey-nomad-in-a-van life is not for us!